AMP Insurance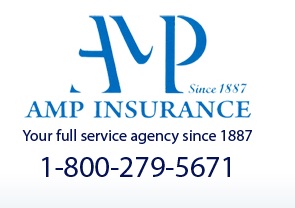 ---
Description
We are an Independent Insurance Agency
We do not work for an insurance company; we work for you. We work on your side when you have a loss and follow through to see that you get a fair, prompt payment.
We represent a carefully selected group of financially sound, reputable insurance companies, and we place your policy with a company offering the best coverage at a competitive price.
We offer you complete Insurance Programs
Personal Coverage
Homeowners
Propety insurance covering a private home and it's contents, loss of use as well as liability.
Automobile
Insurance providing financial protection against physical damage and or bodily injury resulting from traffic collisions.
Farm
Property insurance covering the residence and contents. Other coverages may include out buildings, equipment and liability exposure.
Umbrella Liability
Protection above and beyond the standard limits of your primary policy.
Recreational
Insurance covering physical damage and liability exposure for all your "toys".
Renters
Protection for situations such as fire, theft, water damage and other exposures your landlord's policy does not cover.
Financial Planning
Plans designed for your specific needs including Group & Individual Health, Universal Life Insurance, Mortgage Life Insurance & Disability Insurance.
Business Coverage
Commercial Property
Protects your property as well as inventory or assests against loss or damage caused by theft, an accident or some other means.
Commercial General Liability
Financial protection for your company covering damages resulting from an accident during the course of services offered by your business.
Commercial Auto
Provides liability and or physical damage coverage for business vehicles you own, maintain or use.
Directors & Officers
Protection against claims for wrongful acts performed by corporate directors or officers while performing corporate duties.
Commercial Umbrella
Provides an additional layer of protection to your company's primary general liability or auto liability policies.
Workers' Compensation
State mandated insurance providing wage replacement and medical benefits for employees who sustain a job related injury.
Surety Bonding
Contract bonds, License & Permit bonds and Fidelity Bonds
---
AMP Insurance Items